PRIVATE JAMESON & GUINNESS TRAIL
Visit the homes of our most famous beer and our most famous whiskey across one morning. This is a private drinks trail for you and your party only.
BOOK NOW
WHAT'S INCLUDED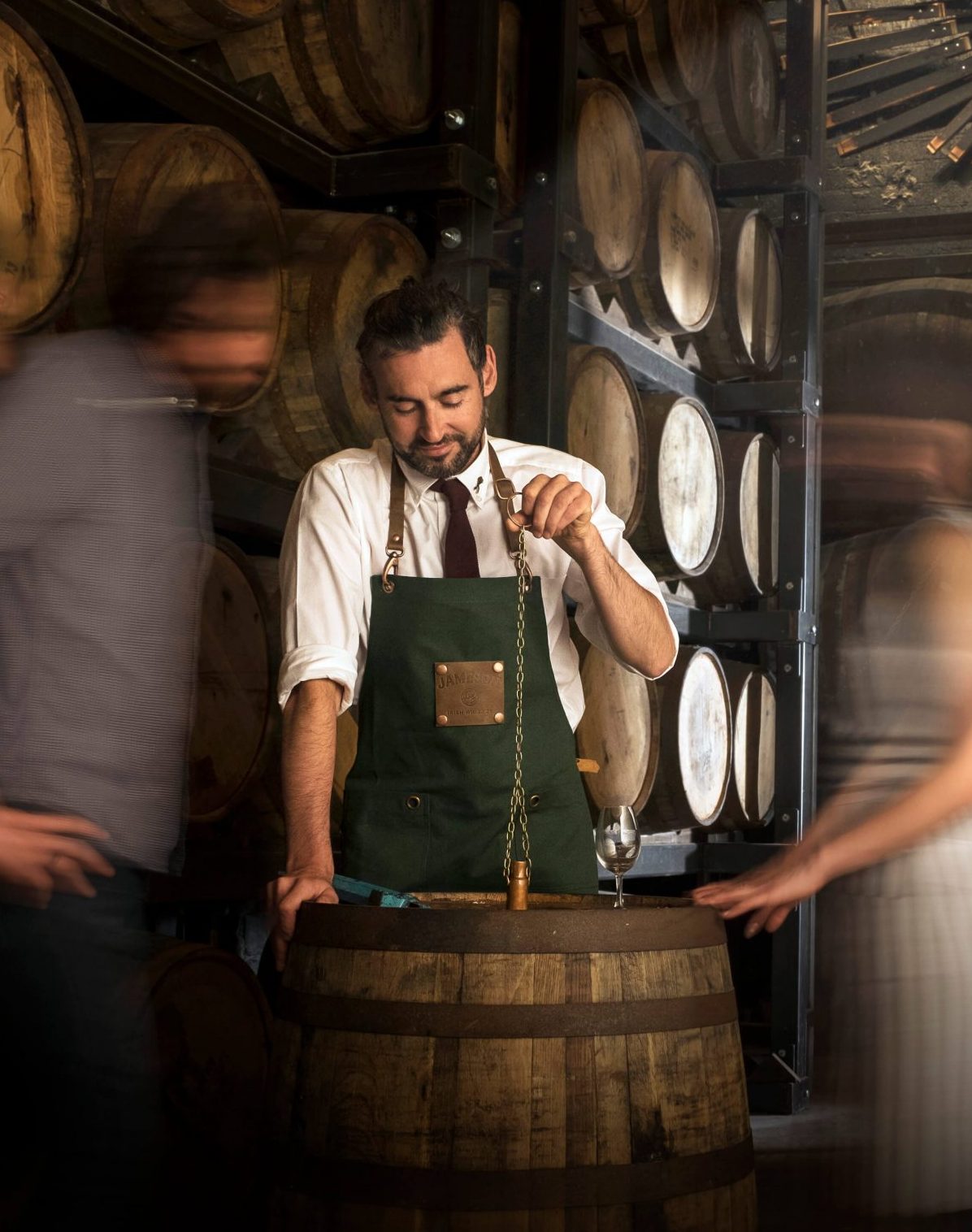 PACKAGE INCLUDES
Private half day whiskey & beer adventure in Dublin City – for you and your party only
Travel in executive transport from whiskey stop to stop (BMW 520d/Mercedes Viano, Sprinter or similar)
Bottled water on board
Whiskey Specialist Host to accompany you throughout and to bring the Dublin brewing and distilling story to life
Private City tour of Dublin – your host will guide you through the many districts of Dublin we pass, such as; College Green, Temple Bar, Financial District, the River Liffey, High Courts, Medieval Dublin and the key whiskey districts, past and present
Private tour of  Guinness Storehouse with a pint of Guinness in the Gravity Bar
Bow St Experience at Jameson Distillery Bow St – comparison whiskey tasting included along with a Jameson drink (shared experience)
Drop off at your hotel (or wherever suits you in the city centre)
All taxes
5% transaction fee is added at checkout
FULL PROGRAMME
HALF DAY TOUR
4 hours 30 minutes
Hotel pick-up 9:30am
Return to city centre lunchtime
Available daily, all year
RATES
1 person (age 18+): 494.00 €
2 people: 275.00 €
3-7 people: 209.00 €
8-15 people: 161.00 €
Please note: all prices are per person.
LOCATIONS
Guinness Storehouse
Jameson Distillery Bow St.
FULL JAMESON & GUINNESS TRAIL PROGRAMME
This is our best seller! Check out reviews on TripAdvisor for this tour – all 5*****. We pick you up at your Dublin City hotel. Your Whiskey Specialist Host will be in the lobby ready to meet you for a 9:30am kick off!
We board executive transportation and your Host brings to life the wonderful heritage of distilling and brewing in Dublin. We head for the Liberties neighbourhood first, and there is plenty to see on the way here! We'll pass Trinity College (depending on where your hotel is located) , we'll be on the River – once the main highway in the city for the Guinness brewery to sail their barrels of beer down to the port. We'll take you to the sites of some of Dublin original distillers. You'll see what remains of the Powers and Roe Distilleries (both 18th century). We'll then arrive at the home of our world-famous Guinness beer!
We arrive at Guinness Storehouse a little after 10am, before the masses. But don't worry, we won't be drinking beer right away if that sounds a little early in the day for you! Your Host will take you on a private tour of Guinness Storehouse, taking you through each stage of the brewing process and the wonderful history of Guinness through the ages. The Guinness Storehouse visit is usually self-guided, but we'll ensure you experience the highlights of the tour before finishing on the 7th floor, in the Gravity Bar, where you will enjoy spectacular views over Dublin and more importantly, you will enjoy a pint of Guinness, at the home of Guinness. 
VISIT THE ORIGINAL HOME OF JAMESON IRISH WHISKEY
We board our executive transportation and we travel across the River Liffey to Smithfield – the original home of Jameson Irish Whiskey. John Jameson started distilling his famous whiskey here in 1780 and today, the Jameson visitor centre in the old distillery buildings is one of the most popular attractions in the city. Your host takes you on a stroll of the buildings sharing 'insider' knowledge of the Jameson story and then you join the Bow St. Experience tour with other Jameson fans. You'll enjoy a guided tour with a Jameson Ambassador and a comparative whiskey tasting. 

Time for shopping in both Guinness Storehouse and Jameson Distillery Bow St. included, we drop you back to your hotel just before 2pm. Oftentimes, we'll make some lunch reservations in the centre of town for our guests and drop them to lunch and we take their shopping back to their hotel for them too, so they don't have to carry it around all afternoon – we're all about good Irish hospitality!
dublin Whiskey tour
Meeting and touring with John Collely was the hight point of our day. Very knowledgeable and great person to spend the day with. 5 stars!
Dennis M
STAY UP TO DATE
with all the whiskey news from the island of Ireland.