GOLF & WHISKEY TRAILS
We can arrange a selection of whiskey trails for golfers, in a half day or longer, from the following bases:
DUBLIN
Half day
Dublin Distillery Trail
KILLARNEY
Full day
Ring of Kerry Whiskey Trail
SLIEVE DONARD
Full day
County Down Whiskey Trail
ROSAPENNA
Full day
County Donegal Whiskey Trail
Alternatively, for those who do not have time for distillery visits, we can call to your hotel and deliver a private, fully-tutored whiskey tasting (available nationwide).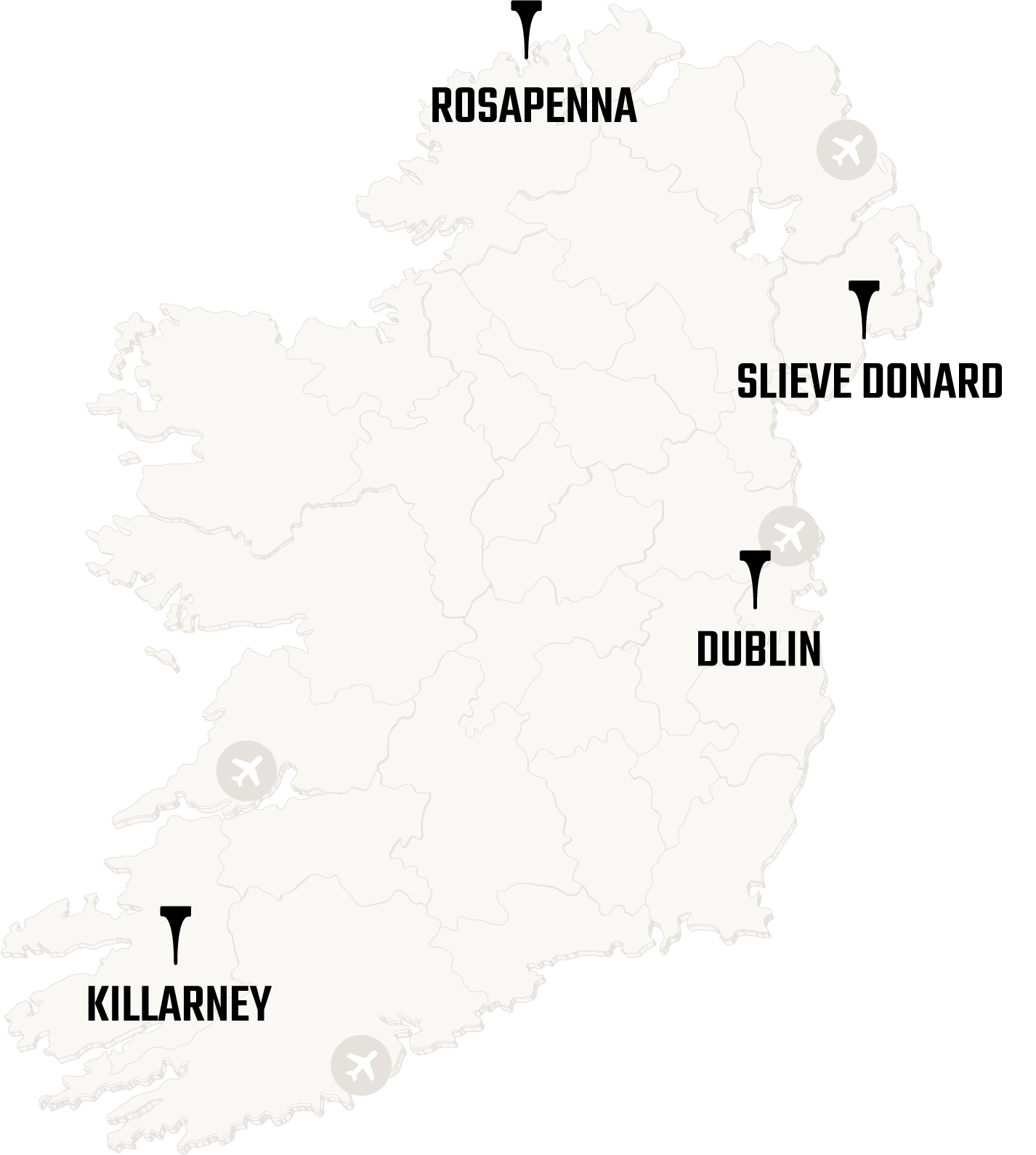 Sample Programme
We have put together a ten day trail (see below), where we've blended the best Irish golf with the most memorable Irish whiskey experiences and all the highlights of the Wild Atlantic Way en route. Really, is there a better way to spend ten days in Ireland?
West coast - day one
Golf
Just 15 minutes from Dublin Airport, you'll find Portmarnock Hotel & Golf Links. The original hotel was the ancestral home of John Jameson. So strong was his connection to the beachside property, he was laid to rest on the land. You will see his grave as you walk down the first fairway. On arrival at the resort, you'll have time to use the changing facilities and we'll have a full Irish golfer's breakfast ready for you before you head off and play the Bernhard Langer designed links course.
Distillery
We can't visit the home of JJ and not raise a glass to the man! Hot whiskey or 'Hot Toddy' for all after golf at An Sibin Pub (once an illegal pub), then relax on board your luxury touring coach in the afternoon as we take you cross country to the northwest of Ireland.
Accommodation
The 5***** Lough Erne Resort is one of the country's superior golf resorts. It's nestled on a 600-acre peninsula between Lower Lough Erne and Castle Hume Lough. We suggest that you order some dinner on-site, you'll most likely be ready for bed early.
West coast - day two
Golf
Golf onsite at Lough Erne Resort. The resort features two championship golf courses. You'll play the renowned Faldo Course; designed by six-time major winner, Sir Nick Faldo. A top 100 course (UK & Ireland), measuring 7,167 yards Par 72, offering stunning views of Castle Hume Lough & Lough Erne, with superb all year round playing conditions.
Distillery
The Boatyard Distillery in County Fermanagh is still in its infancy, its whiskey is still maturing in casks. In the meantime, they make a mean gin! We take a private tour of the distillery and try the Boatyard Double Gin. The folks are so nice at The Boatyard Distillery that they'll give you a bottle of their delicious gin to take away with you!
Accommodation
Proudly owned by a Swiss / Irish family since 1989, the 4-star Harvey's Point is repeatedly awarded Ireland's Best Hotel by TripAdvisor. It is situated just outside Donegal Town, on the shores of Lough Eske and at the foot of the Blue Stack Mountains.
West coast - day three
Golf
Narin and Portnoo Golf Club, is considered one of the finest natural and scenic 18-hole links courses in Ireland. All manner of shots are required here: draws around sharp dog-legs; crisp irons to par threes over cavernous terrain; accurate tee shots down snake-like fairways. Throughout the adventure, all are captivated by the scenery and once experienced, it's a course to which golfers return again and again.
Distillery
We travel down to the coastline of beautiful Donegal, to one of Ireland's best kept secrets – the cliffs at Sliabh Liag. At 601 metres (1,972 ft), it has some of the highest sea cliffs on the island of Ireland. Although less famous than the Cliffs of Moher in County Clare, Sliabh Liag's cliffs reach almost three times higher. Visit to the cliffs is optional but highly recommended (one hour required). Then a quick 10-minute drive will see us at one of the region's newest additions – the Sliabh Liag Distillery. Tour of the distillery included with tasting of their Silke Irish Whiskey.
Accommodation
Second night at Harvey's Point.
Golf
Enniscrone Golf Club, County Sligo. Enniscrone is among the finest and most challenging of traditional Irish links golf courses and offers 27 holes on 400 acres of magnificent links land, featuring the par 73 Dunes Championship Links Course. The Dunes is one of Ireland's top-ranked championship links courses; voted "Best in Connacht" by Golfers Guide to Ireland; repeatedly a top-15 links course in Golf Digest's review of Irish golf courses and a perennial Top-100 UK course from Golf World. A 'must play' as described by American golf novelist Tom Coyne.
Distillery
The Connacht Whiskey Company Ltd. is a 20-minute drive from Enniscrone. Discover the remarkable story of how the distillery came about – the result of a dream shared by four men, three Americans and one Irishman, to bring pure pot still Irish whiskey back to the West of Ireland after an absence of over 100 years.
Accommodation
We continue south to Westport, one of the most fun places in Ireland. Tonight you will stay in a hotel in the centre of town. Westport has a vast array of pubs and restaurants, it's very hard to have a quiet night out in Westport!
West coast - day five
Golf
Golf on the edge of Europe…Connemara Championship Golf Links, is nestled between the scenic splendour of the 12 Bens Mountain Range and the rugged Atlantic Ocean. This beautiful, isolated links course, founded in 1973 and designed by Eddie Hackett, lies to the West of Clifden in the heart of beautiful Connemara. Connemara is a region made famous by the John Ford's 1952 classic, 'The Quiet Man', starring John Wayne and Maureen O'Hara. You are really in for a treat with the scenery on offer on the way to today's golf and again afterwards, en route to Galway.
Distillery
We stop at a pub on our approach into Galway which has its own secret distillery onsite. It's Galway's only operating distillery and the first to open in over 100 years. At the moment, Padraic is making his own Irish poitín onsite – and he'll gladly share a glass of it with all visitors to his micro-distillery!
Accommodation
Galway. Arty & bohemian Galway is one of Ireland's most engaging cities. It is full of life, great restaurants and brightly painted pubs heaving with live music. We'll book you into a hotel in the downtown area, with all of the magic of the city on your doorstep.
West coast - day six
Golf
Lahinch Golf Club – 'The St Andrews of Ireland'. Today we're playing the Old Course (Championship course). Lahinch (links course) is regarded as one of the best and most enjoyable challenges to be found anywhere in the golfing world.
Distillery
It's in this neck of woods that Joe Sheridan invented the Irish Coffee way back in 1942. In fact, he first made it at Foynes Airbase, 60 miles down the road from today's golf. We won't travel to the airbase today however! We'll head to a famous Lahinch pub and appreciate the art of Irish coffee making.
Accommodation
Trump International Golf Links and Hotel, Doonbeg, 5***** boasts an idyllic setting right on the shores of the Atlantic Ocean. It's all about the golf at Doonbeg resort and it's an absolute must on any golfer's itinerary.
West coast - day seven
Golf
On-site at Doonbeg Golf Club. Offering views of the Atlantic from 16 of 18 holes, the newly redesigned golf course is a stunning sight to behold. The par-72 layout features a single loop of nine holes out and nine back, playing 7,026 yards from the back tees.
Distillery
A really very special whiskey experience lined up today après golf. Just down the road from the hotel you'll find Chapel Gate Whiskey Co. who are resurrecting the lost art of whiskey bonding. As part of the experience, we start with a welcome and very light refreshments including local seafood. Then you've a tour and tasting in the rackhouse/blending room – you'll get the chance to taste directly from the casks. Great photo opportunity! Then you have your own session in the Blending Room and you leave with your own 50 ml mini blend, personally labelled, with a wax dipped cork. A nice souvenir!
Accommodation
Second night at Doonbeg Resort.
West coast - day eight
Golf
Today you play one of the finest links courses in the world – Ballybunion Golf Club in North Kerry. The Old Course has a length of 6,802 yards. Par: 71 Men/74 Ladies.
Distillery
We're travelling down the Dingle peninsula famed for its wild and rugged landscapes. Along the way, we'll point out the unique Skellig Islands, which featured in the closing scenes of Star Wars: The Force Awakens in 2015. In Dingle town itself, you'll find a small artisan distillery, making some wonderful whiskeys on a small scale. We'll discover the facility at Dingle Distillery and we'll enjoy a glass or two.
Accommodation
Killarney – we'll organise a Farewell dinner for the group at The Irish Whiskey Experience. Killarney has all the ingredients to create a most memorable evening in Ireland.
West coast - day nine
Golf
If you thought Ballybunion was special, we've actually saved the best for last. Occupying a stunning and unique headland reaching out over two miles into the Atlantic Ocean, the Old Head of Kinsale is home to the most spectacular world-class golf course.
Distillery
We're in wonderful Clonakilty, renowned for its friendliness. We visit Clonakilty Distillery which was founded by the Scully family who have farmed by this coastal land for eight successive generations.
Accommodation
To be decided based on departure airport on day 10.
Wonderful tour!
A gracious and informed host. Couldn't have been better! John is well-connected, and knows the area and the people. We visited an interesting mix of old and new distilleries. He was an informative and knowledgeable host. Highly recommended.
Simon D
STAY UP TO DATE
with all the whiskey news from the island of Ireland.