THE DUBLIN WHISKEY STORY
Discover the magic of the one-time whiskey making capital of the world and sample some great whiskeys while you're in our care! Private trail for you and your party. This is a walking tour and a Whiskey Specialist Host will accompany you throughout.
BOOK NOW
WHAT'S INCLUDED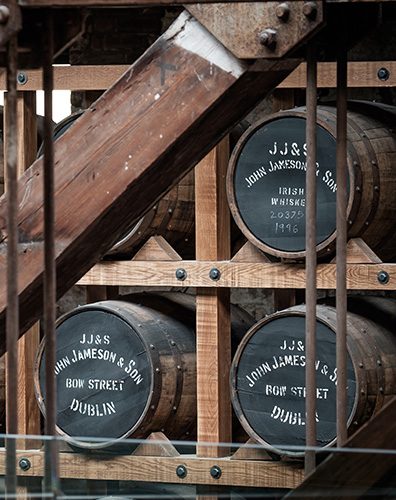 PACKAGE INCLUDES
Private half day whiskey adventure in Dublin City – for you and your party only
Whiskey Specialist Host to accompany you throughout and to bring the Dublin whiskey story to life
Private Walking tour of Dublin – your Host will guide you through the districts of Dublin we pass, such as; College Green, Temple Bar
Fully guided tour of The Irish Whiskey Museum with tastings of 4 Irish Whiskeys
Visit to a famous Dublin whiskey bar with a tasting of 4 premium Irish whiskeys
Visit to the Celtic Whiskey Shop for further tastings (if you wish) and help with choosing the perfect buys
All taxes
5% transaction fee is added at checkout
FULL PROGRAMME
HALF DAY TOUR
2.5 hours
Start 2:45pm
Finish 5:15pm
Available daily, all year
RATES (GROUPS ONLY)
10+ persons (age 18+): 84.00 €
Please note: all prices are per person.
LOCATIONS
James Fox Cigar & Whiskey Shop
The Irish Whiskey Museum
A famous Dublin pub
Celtic Whiskey Shop
FULL DUBLIN WHISKEY STORY PROGRAMME
WHISKEY ADVENTURE BEGINS AT 2:45PM
Our meeting point is James Fox Cigar & Whiskey Shop at 119 Grafton Street. The shop has a very central location, just across the road from the front gates of Trinity College. Your friendly Whiskey Specialist Host will be here to meet you.
Just next door we have our first stop – The Irish Whiskey Museum – a very fitting introduction to Irish Whiskey. Enjoy the captivating anecdotes of talented story tellers as they take you on a journey through the ages revealing the origins of Irish whiskey, its rise to glory, dramatic downfall and current global revival. Tasting of three quintessential Irish whiskeys included at the end of the tour in the bar
VISIT A FAMOUS DUBLIN PUB FOR WHISKEY TASTING
We travel not far by foot to a famous Dublin pub where we sample several whiskeys that would be widely regarded as the best Irish whiskeys that money can buy. This tour is ideal for the whiskey drinker who has fallen for Jameson, and now during their Ireland adventure, they want to discover some of the really delicious whiskeys that they may never have heard of. We then finish in the Celtic Whiskey Shop, our favourite store in Ireland! We'll have a parting glass at the store and we'll help you with any purchases you're thinking of making.
Amazing tour of the distillery in Dublin
Me and my dad had an amazing time with John on the tour around Dublin. John gave us 100% service and planned everything perfectly. We will defintely come on a tour again when in Dublin.
ErikH2130
STAY UP TO DATE
with all the whiskey news from the island of Ireland.