THE DUBLIN WHISKEY STORY - ST PATRICK'S DAY FESTIVAL SPECIAL
AVAILABLE FOR BOOKING - FRIDAY 15 & SATURDAY 16 MARCH 2024
Discover the magic of the one-time whiskey making capital of the world and sample some great whiskeys while you're in Dublin to celebrate St. Patrick's Day 2024! This is a shared tour where you'll be joined by other Irish whiskey fans, max 25 spots on each date.
BOOK NOW
WHAT'S INCLUDED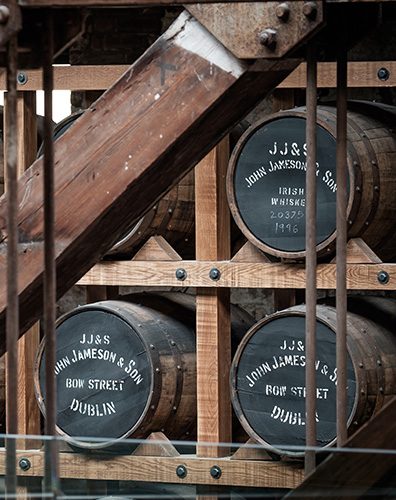 PACKAGE INCLUDES
Half day whiskey adventure in Dublin City – central meeting point (walkable from most central Dublin hotels)
Whiskey Specialist Host to accompany you throughout and to bring the Dublin whiskey story to life. Your Host fills in the gap with nuggets that you don't hear at the distilleries
Panoramic City tour of Dublin – travel by executive coach. Your Host will guide you through the districts of Dublin we pass, such as; College Green, Temple Bar, the river, the courts district and the whiskey neighbourhood!
Bespoke visit to Pearse Lyons Distillery with tastings of their 5 and 7 year old blends and 12 year old single malt
Bespoke visit to Teeling Whiskey Distillery with tastings of Teeling Small Batch Blend, Single Grain and Single Pot Still
Bespoke tour of Dublin Liberties Distillery with tastings of Dubliner Liqueur, Dubliner Bourbon Cask and Liberties Oak Devil 5 year old single malt
All taxes
6% transaction fee is added at checkout
FULL PROGRAMME
HALF DAY TOUR
4 hours
Start 9:30am
Finish 1:30pm
Available March 15th and 16th, 2024
RATES (PER PERSON)
Rate (age 18+): 169.00 €
Please note: there will be multiple small groups of guests on this tour. Max 25 seats available.
LOCATIONS
Pearse Lyons Distillery
Teeling Whiskey Distillery
Dublin Liberties Distillery
FULL DUBLIN WHISKEY STORY PROGRAMME
WHISKEY ADVENTURE BEGINS AT 9:30AM
Our meeting point is James Fox Cigar & Whiskey Shop at 119 Grafton Street. The shop has a very central location, just across the road from the front gates of Trinity College and right next to the Irish Whiskey Museum. Your friendly Whiskey Specialist Host will be here to meet you.
Once all guests have arrived and are accounted for, we board an executive bus and depart for the whiskey neighbourhood of Dublin. We take the scenic route of course and your Whiskey Host will tell you all about the places we pass. You'll get the backdrop to the Irish whiskey story, before visiting  Pearse Lyons Distillery – a very fitting start to our Irish Whiskey adventure. This distillery has one of the most unique settings in Ireland – we won't say too much here! Tasting of three Pearse Lyons Irish whiskeys included at the end of the tour in the bar
A WHISKEY SAMPLING TRAIL THROUGH THE DISTILLERIES OF DUBLIN
Our objective today is to share the Dublin whiskey story with you through the ages, from one time world fame, to near wipe out , to Renaissance! We bring you to the old remnants of Dublin whiskey heritage, such as; Powers Distillery (closed 1976), George Roe & Co (closed 1926). There were 40 distilleries in this neighbourhood and they all closed, we explain why! As Irish whiskey reclaims it's place in the spirits world, distilleries are popping up all over Ireland. Today, we bring you to three new Dublin distilleries , without taking the public tour . We cut out the repetition. After our visit to Pearse Lyons, you will also enjoy bespoke tours and tastings at Teeling Whiskey Distillery & Dublin Liberties Distillery
At 1:30pm, we'll drop you off along the side of St. Stephen's Green, right in the middle of town.
Amazing tour of the distillery in Dublin
Me and my dad had an amazing time with John on the tour around Dublin. John gave us 100% service and planned everything perfectly. We will defintely come on a tour again when in Dublin.
ErikH2130
STAY UP TO DATE
with all the whiskey news from the island of Ireland.