Lambay Island may be barely three miles off the east coast of Ireland, but it retains an air of inaccessible mystery. When WB Yeats visited the island in the 1880's, he compared his experience to landing on a remote South Seas island for the first time. Now, Lambay is offering private groups a chance to experience a Lambay Whiskey VIP tour.
Groups (min 2 and max 12 persons) can now visit this private island from April – October as part of a new cultural and heritage whiskey tour in exclusive partnership with Lambay Irish Whiskey Company (LIWC) and all booking enquiries are managed by the specialist Irish whiskey tour operator, Whiskey Island Tours.
John Callely Jnr., Director of Whiskey Island Tours commented, "We are delighted to partner with the Baring family and Lambay Irish Whiskey Company on this exclusive tourism offering for Dublin and Irelands east coast."
Lambay Island has always had an air of mystery to it, being privately owned by the Baring family since 1904. Lambay is entirely focused on off-grid living and run mainly on renewable energy generated through wind and solar power. Today only 6 people reside there permanently. A place of priceless beauty, Lambay Island is almost hidden in plain sight and holds many tales of dynasty and devilment.
"While we have received a lot of interest already in this product, it does not go without its challenges as our availability on Lambay is decided by times and tides, therefore our tours are not about volume but completely about quality of experience. Since our whiskey story has developed with LIWC, it has provided a natural additional layer to our tourism offering," said Millie Baring, Director of Hospitality for Lambay.
The VIP Whiskey tour begins at Malahide Marina where guests are hosted by a Lambay Whiskey brand ambassador and escorted to the island via private boat transfer.
Enjoy the wonderful views of Malahide and Lambay from afar as you pull out of the estuary for a short boat journey to the island. Welcomed by members of the Baring family, you will embark on a guided walking tour around their family home and castle grounds where history and architecture intertwine along with incredible stories of the family lineage, the wildlife, the flora and fauna of this mysterious place.
After the walking tour, guests are invited to discover the unique taste of Lambay Irish Whiskey partaking in a 3part whiskey tasting masterclass in the quaint surroundings of the island's Bothy Clubhouse. This tasting includes the story, craft process of Lambay Whiskey, the fine art of blending and finishing before a visit to the bonded warehouse called the Sea Cask Room.
Additional upgrades are available such as private dining options, overnight accommodation and island safaris to view the wonderful wildlife and nature the island has to offer.
"At a time when visitors and tourists to Ireland are seeking that something different, we see this as a natural extension to our product offering," said Senior Brand Manager LIWC, Sabine Sheehan. "Immersing whiskey lovers in the atmosphere of Lambay Island where we can share the rich stories of the Baring family legacy, the abundance of wildlife and provide whiskey masterclasses is both a unique and premium experience," Sheehan continued.
For booking enquiries contact: John Callely john@whiskeyisland.ie Product details can be viewed here: https://www.whiskeyisland.ie/private-island-experience/ 2020 Rate for whiskey tours on Lambay start at €2,700 Ex Vat. Tour Duration is min 90 minutes. Additional upgrades available and all tour experiences are subject to availability.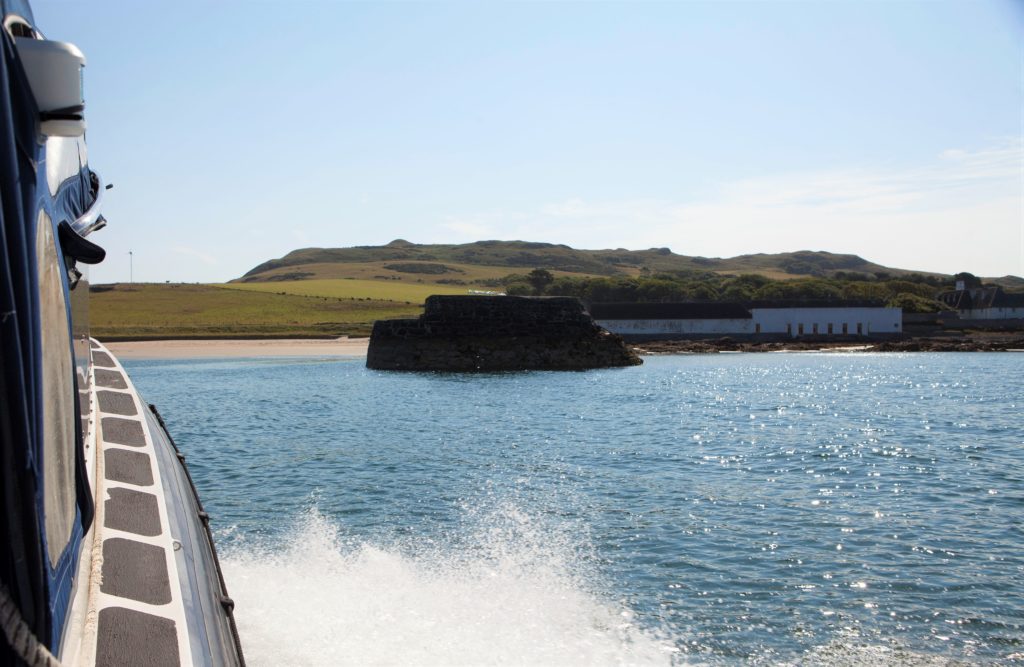 Lambay Irish Whiskey
A unique expression inspired from a special place, Lambay Whiskey comprises of the finest triple distilled spirit that is bourbon cask matured, then masterfully blended in hand-selected Cognac casks before being crafted with water from Lambay Island's Trinity Well. The hand-selected French oak casks are carried across the sea from the world-renowned cellars of Camus, France.
Lambay Whiskey is a partnership born from an intriguing collaboration between two families: Camus, the worlds leading family-owned Cognac producer and the Baring family's Revelstoke Trust. Both families share a history of rarity and refinement, a passion for nature, innovation, entrepreneurship and appreciation for the finer things in life. Their unique Irish whiskey has been crafted and inspired by the isle of Lambay, home of Alexander Baring, and finished with the award-winning techniques and expertise of Maison Camus, ancestral home of Cyril Camus. The entrepreneur Cyril Camus is part of the fifth generation of Maison Camus, an illustrious French family famous all over the world for their incomparable Cognac. Bonded by a love of nature and the finer things in life, Cyril and Alexander make the perfect partners in whiskey production.
There is no operating distillery on the island (yet!); the whiskey spirit is sourced through an independent Irish distiller before being matured, blended and finished by LIWC. Lambay Whiskey launched in Ireland in 2018 and is now in over 40 markets worldwide as well as Duty Free. There are currently two products in the portfolio with a third to be announced in Spring 2020.
Lambay Whiskey – Small Batch Blend is the flagship brand and is a blended whiskey. Oak brown in colour and crafted with notes of malt, flora, cracked almonds, and pepper. The finish has a lingering spiciness attributed to a Cognac cask finish. This whiskey is elegantly smooth and mysterious showing characteristics as unique as the island itself. 40% ABV, non-chill filtered. RRP €41 (70ml)
Lambay Whiskey – Single Malt is a deliciously smooth un-peated craft malt whiskey. Triple-distilled and non-chill filtered, its unique flavour can be attributed to first fill bourbon barrels, which had a previous heavy rye content, that impart a subtle sweetness and floral note to the spirit. Lambay Single Malt is wholly finished in Cognac casks. Selected Cognac casks are placed on Lambay Island to bring maritime notes to the casks exposed to the fresh sea air. Warm mahogany in colour, Lambay Single Malt has tastes of coconut, malt, and dried berries. It has a long-lasting malt finish with lingering sweetness and green fruits. 40% ABV, non-chill filtered RRP €57 (70ml)
About: Lambay Irish Whiskey Company DAC (LIWC) Lambay Irish Whiskey Designated Activity Company was established 8th of February 2017 in Dublin, Ireland and is a separate business unit which belongs to the Camus Group. Headed by Managing Director, Jean-David Costerg, the company is also a member of IBEC, the Irish Whiskey Association and Irish Spirits Association.
Contact: LIWC @ info@lambaywhiskey.com LinkedIn https://www.linkedin.com/in/lambay-whiskey/ Twitter https://twitter.com/LambayWhiskey Tel: +353 (0) 1 237 4669 Web: www.lambaywhiskey.com