The Whiskey Wash is a US based, leading whiskey news and information website focused on telling readers about the whiskey lifestyle. Last month, we contributed with an article showcasing some of the new distilleries of the west coast of Ireland.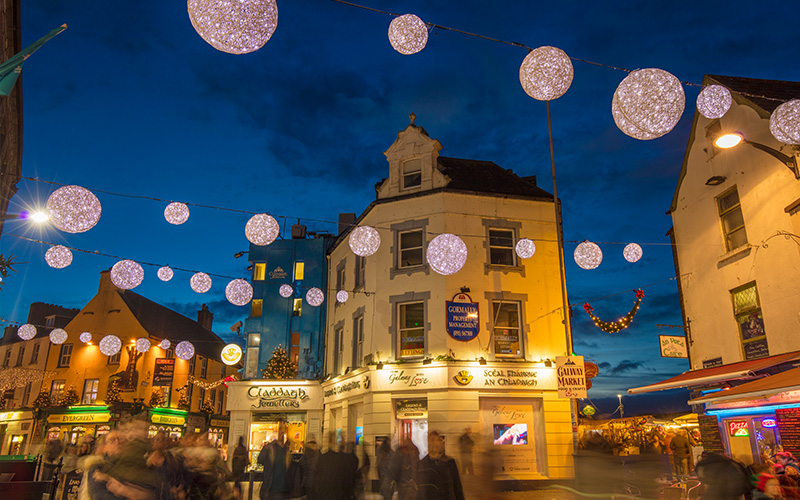 The Wild Atlantic Way is a tourism trail on the west coast of Ireland. The 2,500 km (1,553 mile) driving route passes through nine counties, stretching from County Donegal in the North West to County Cork, in the South. It is Ireland's first long-distance touring route and takes you through many buzzing towns and cities, to soaring cliffs and hidden beaches, with many friendly locals to meet and interact with along the way.
Most importantly, there are many new distilleries and whiskey companies dotted along the way! There are over 20 in fact, which is incredible when you consider that until 10 years ago, there were only 3 distilleries total in the entire country, none of which were located along the Wild Atlantic Way. Relax and indulge us, as we take you on a virtual whiskey trail along the Wild Atlantic Way, showcasing some of these new whiskey makers along the way.
Our whiskey trail starts in Dublin Airport, where we embark on a short domestic flight to North Donegal, the furthest north-westerly point in the country. Donegal Airport has been voted as having the 'Most Scenic Airport Landing in the World' for the past two consecutive years.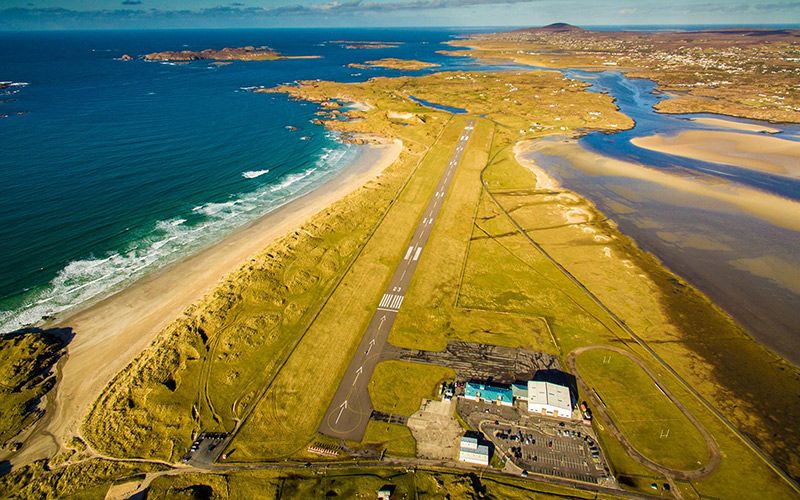 Just five minutes from the airport, we have our first distillery visit – The Crolly Distillery in Crolly, Co. Donegal. Crolly is set in an area of outstanding natural beauty, nestled amid the Hills of Donegal with seas, mountains, heathers and bogs. The team at Crolly are bringing new life to the former Crolly Doll factory (constructed in 1902) converting it into a whiskey distillery. In January just gone, they proudly commenced first production of Crolly Whiskey.
We're travelling breath-takingly beautiful territory up here in North Donegal, the real Irish countryside, to the Cliffs at Sliabh Liag. Sliabh Liag are known as the highest accessible sea cliffs in Europe reaching a height of 1,972 feet/601 meters. That is almost twice as high as the Eiffel Tower in Paris and nearly three times the height of the famous Cliffs of Moher in County Clare.
Just down the road from the cliffs, we have Sliabh Liag Distillers. Their whiskeys, the Legendary Silkie & the Legendary Dark Silkie Irish Whiskeys, are soon due for release in the US, so do watch out for them. The Silkie Collection is inspired by the legends of the Silkie seals of the Donegal coast, who take the form of seals in the ocean but once ashore they transform into beautiful maidens with long dark hair and eyes as deep as the wild Atlantic.
We've now travelled into a neighbouring county, Sligo, often immortalised by WB Yeats in his poetry. Lough Gill Distillery is located in Hazelwood Demesne, a 300-year-old estate on the banks of Lough Gill. They have released three whiskeys to date and have another six whiskeys maturing in different casks that will be used to finish the collection of total nine whiskeys. Athrú whiskeys are Ultra-Premium limited editions, designed to look like "First Edition" books, telling stories from Celtic Mythology.
To the west coast of Mayo next, to Ireland's first island distillery & home of IrishAmerican Whiskey. Founded by John Mckay in 2018, it is operated by his two sons Michael & Sean. The Mckays are currently producing premium Single Malt and Pot Still spirit for their IrishAmerican brand and their distillery will open for tours in an officially capacity in August of this year.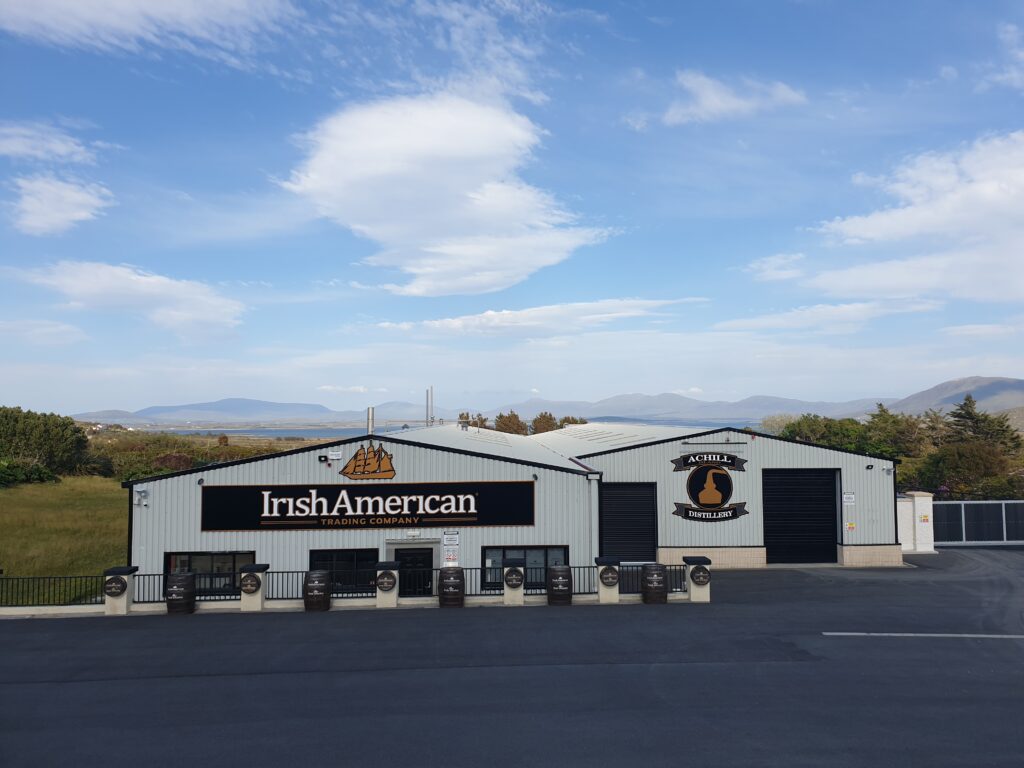 Next, we're headed into Connemara. Boasting some of the most beautiful landscapes in Ireland, it was the setting for the iconic 1950s film 'The Quiet Man', staring John Wayne and Maureen O'Hara. The circuit finishes in Galway, where we can call into Pádraic Ó Griallais at Micil Distillery. At Micil, they craft exceptional spirits in tiny batches, using six generations of Connemara Distilling heritage and experience. The craft has been handed down through the family for 170 years. Their range includes Micil Irish Poitín (Poitín is a traditional Irish spirit, steeped in history). Micil Heritage Edition is their peated poitín made from malted and peated barley and oats. Their award-winning gin is made using wild Connemara flowers and herbs. They have recently installed their whiskey still and they will be laying down the first Galway-distilled whiskey in over 100 years soon.
It is strongly suggested that we stop in Galway for the night, or for even two nights! It is a really fun city to explore, the fun capital of Ireland you might say! It's as fun during the day as it is at night. Moving south into the Shannon region, The Glendree Distillery is our next visit. It was set up by father and son Paul and Alex Loudon in 2019, combining a passion for science and sustainability to produce independent craft spirits of the highest quality using 100% rainwater. Paul and Alex established a microbrewery on the family farm in 2017 with the view of applying the skills they learned in beer brewing to making spirits. Glendree is the first legal distillery in East Clare since 1661.
Killarney in County Kerry is our next base, an essential stop on any Ireland itinerary. Take a night to enjoy the wonderful Kerry hospitality, with its many great pubs and restaurants. Next day, we're exploring the famous Ring of Kerry and some of its new whiskey stops. We stop at Lakeview Estate in Killarney, home to the O'Connell family and base to Wayward Irish Spirits. They are working towards becoming Ireland's most beautifully situated Single Estate Grain to Glass Distillery. At present estate barley is distilled for them but in 2024 they start distilling on site. Alongside this, they produce The Liberator range of sourced whiskeys that are matured, finished and blended in their 300-year-old stone Bonded Storehouse.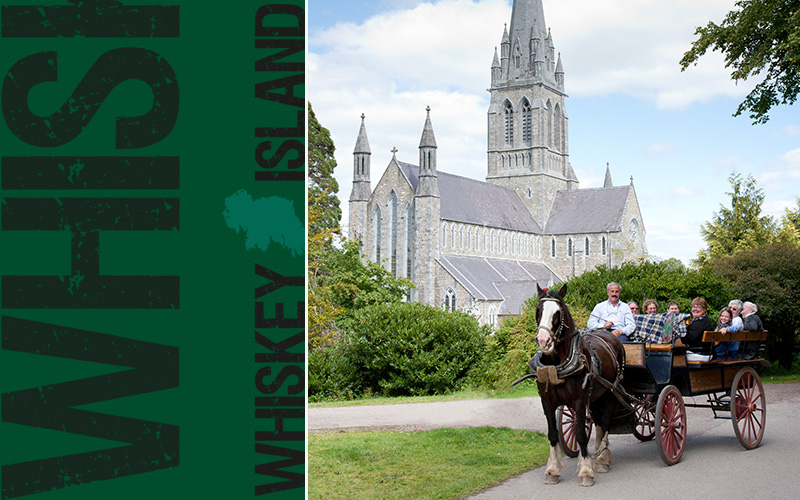 Further down the Ring of Kerry, you'll find the village of Portmagee, home to Portmagee Whiskey, founded in 2017 by two brothers John and James Murphy. John and James have a site in Portmagee that was the Royal Irish Constabulary (RIC) Barracks until it was burned down during the Irish War of Independence. The Murphy brothers now seek to restore the building as part of the Portmagee Whiskey Experience and micro-distillery. The brothers are joined by Stuart McNamara, a well-known Irish whiskey writer, bringing his extensive knowledge and passion for whiskey to the team.
Take a free day in Killarney and enjoy the town at leisure, browse in the many small family run stores, take a trip through Killarney National Park using the traditional transport in the region – horse drawn jaunting car.
We have now entered our final county – Cork. Cork is home to Jameson Whiskey along with other famous premium whiskeys such as Redbreast, Midleton Very Rare and the Spot whiskey range. They are all made at the Midleton Distillery in East Cork. We're in West Cork right now however, at Clonakilty Distillery. Their warehouse is perched on the edge of the Atlantic Ocean where soft rain and ocean spray, permeate every whiskey cask, providing a complexity and subtlety of flavour. The distillery was founded by the Scully family who have farmed the local lands for eight successive generations. Their award-winning products include their flagship Single Batch Double Oak and a Single Pot Still Irish whiskey which they began distilling in 2019 and recently won Best Irish New Make at the World Whiskey Awards.
Next to Kinsale, a picturesque Irish town. Husband and Wife duo Sam and Maud Black set up their micro-brewery in Kinsale back in 2013. Having some of the best craft beer in Ireland wasn't enough it seems as the site is now home to one of Ireland's newest whiskey distilleries. Their recently commissioned copper pot stills from Frilli in Italy have just arrived. Blacks are also proud distillers of the award-winning Blacks Irish Gin and home to the first ever Irish Rum, Blacks Spiced Irish Rum. Their most recent release Blacks Golden Rum, finished in Single Malt Whiskey Barrels, took home Gold at the World Rum Award this year.
Finally, we're going to finish in Cork City (we're all still standing of course!), at Rebel City Distillery. This is a boutique distillery situated in the heart of Cork's historic Docklands, founded in 2020. Rebel City Distillery is breathing new life into a former Ford factory building, where it crafts, distils and bottles a unique range of spirits onsite. The distillery will produce premium spirits, which draw inspiration from around the world. The company is also planning to open a visitor centre later in 2020 offering tours, tastings and a gin school experience. They produce a gin, with small batch akvavit and absinthe to follow this year with rum both as white rum and aged rum starting in 2021. A nice unique visit to finish with! Cork City offers a great night out, the super restaurants and pubs down on Oliver Plunkett Street are a personal favourite!
A world of whiskey (and gin, vodka, poitin and rum, among others!) awaits you on the Emerald Isle. The distillery visits are up close and personal, you are visiting places of business, meeting the people behind the brands and you're sampling their products that are made with love.